Royford Burris named Highway Angel of the Year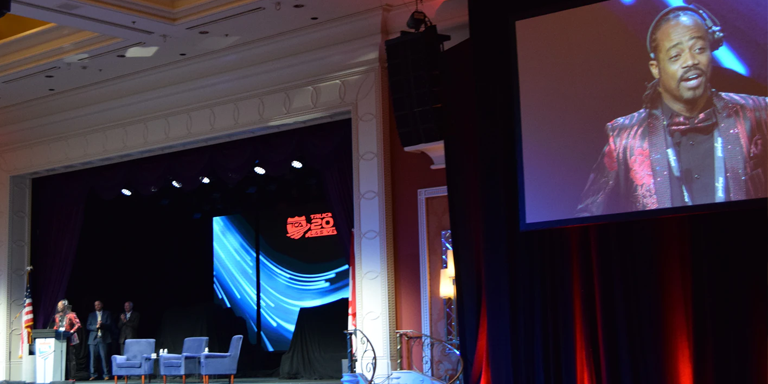 Royford Burris named Highway Angel of the Year
Florida-based Stevens Transport driver Royford Burris addresses the Truckload Carriers Association attendees after being named Highway Angel of the Year for the 2020 calendar year.
The Truckload Carriers Association had its work cut out for it in naming the Highway Angel of the Year at its annual Truckload 2021 conference and exhibition, ongoing through today in Las Vegas. For calendar year 2020, the TCA named 75 Highway Angels. That number of drivers and owner-operators recognized for on-highway heroism was more than any single year since the program's 1990s inception, said current TCA Chairman Jim Ward in the preamble to announcing this year's winner.
The overall winner is Florida-based Royford Burris, pictured above during his speech to the assembled. Burris gave a melancholy reflection on the difficulties faced in the aftermath of a fiery wreck for which the Stevens Transport hauler was the first on the scene in August of 2020. Multiple fatalities resulted, and Burris's quick action to release a trapped child passenger was ultimately instrumental in her return to her father alive.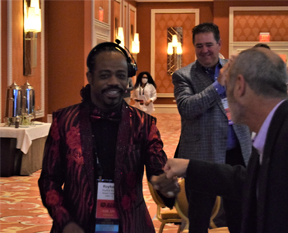 Royford Burris making his way to the
stage for his acceptance remarks.
"This is a happy moment for me," Burris said in accepting the Highway Angel recognition, yet added that recollection of the event is "always a sad moment," too. "I believe in God and God is who made everything possible. … I'm glad I was there to do what I did to save" a life.
Burris also took the moment to urge the assembled to learn from his and his company's example to look past what some view as a barrier to empathy and appreciation – the basic color of one's skin.
As Burris experienced trauma in his own life following the accident ("flashbacks," he said, disturbing his sleep, and he "couldn't eat right for three months"), his employer helped him "get counseling to overcome it."
"When this all happened, I went to my boss," a white woman, "and she didn't have a mask on and I did. She took off my mask and hugged me, crying." He could feel the genuine emotion, the appreciation for him, within her, he said. "Skin color – that's all it is. These people I helped [at the accident scene] were white."
He wouldn't have done anything differently no matter who they were, he added.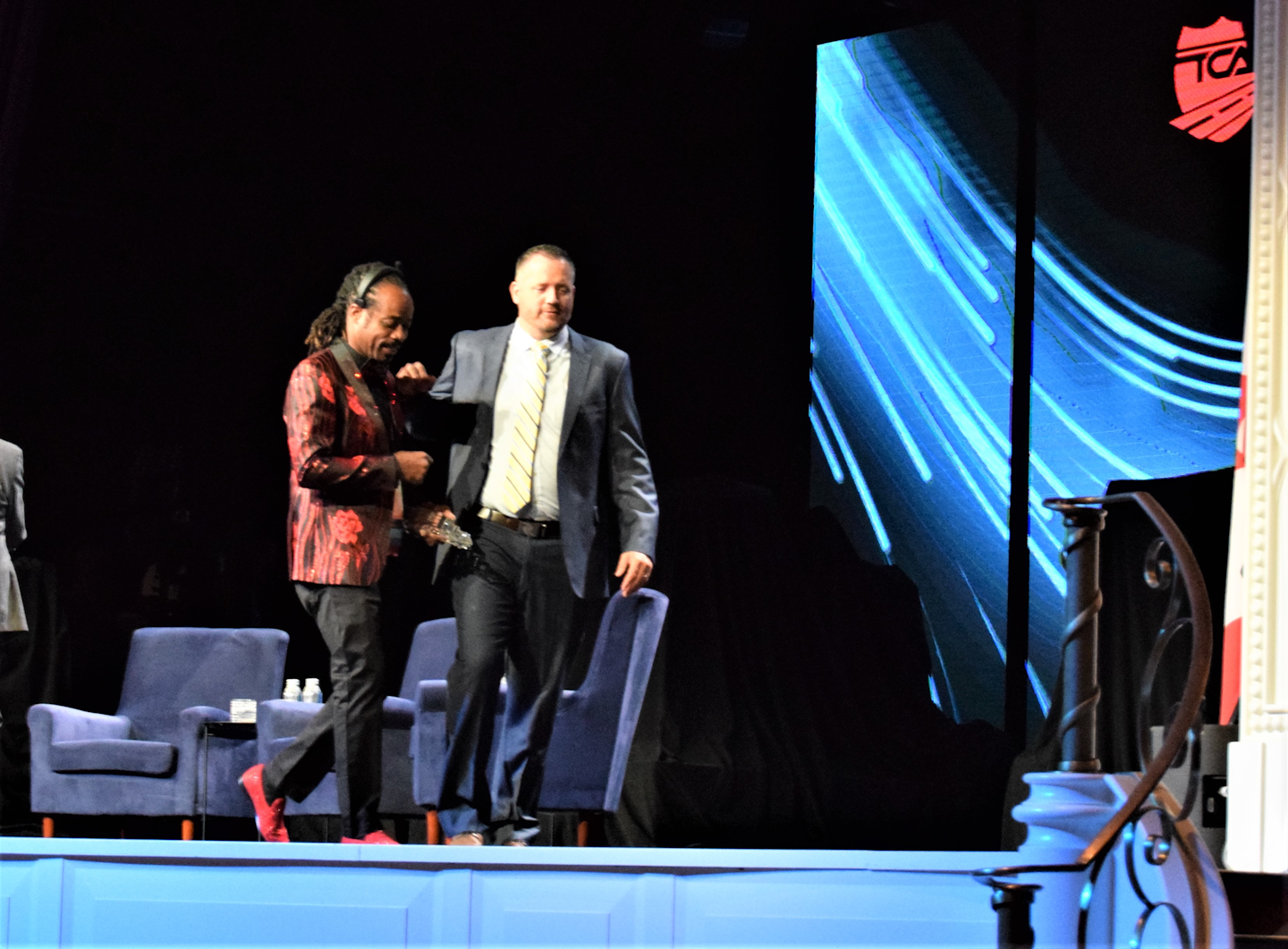 Burris is shown here exiting the stage with Highway Angel sponsor EpicVue's Vice President of Sales, Kyle Hales.
The story of that accident, originally told in early January of 2021 in these pages, follows:
On Aug. 23, 2020, Burris was traveling on U.S. Highway 63 near Walnut Ridge, Arkansas, with a load bound for Ontario, Florida. He came across two cars in the middle of the road, one of which was on fire. A silver van had drifted over the center line, and a red car coming from the other direction wasn't able to swerve to miss it and collided head-on. The car was in flames.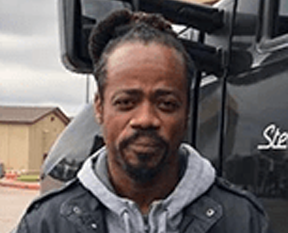 Royford Burris
As he approached the scene, he pulled over and turned on his flashers. A pickup truck pulled up at the same time, and they were the first ones on the scene. They grabbed their fire extinguishers and ran to the car. After they extinguished the flames, Burris and the motorist discovered the driver's body lying about 20 feet away. He went back to his truck to grab a towel to cover the body.
Burris and the other driver then rushed to the van which was badly mangled. The woman in the driver's seat was deceased. Burris carefully lifted her out of the vehicle. EMTs had arrived and put her on a stretcher. He learned that her 6-month-old baby who had been in a car seat in the back had also died. The only survivor was a girl who appeared to be 13 or 14 years old. She was trapped in the front passenger seat.
"She was crying and in pain," Burris said. "She said she couldn't breathe. I said, 'look at me, I'm not going to let you die, I promise.'"
He called a police officer over and asked him to help. Burris kicked out the back door and climbed in to retrieve her.
"I was trying to break the seat apart," he said. "I ripped the seatbelt out. I don't know where I got the strength."
Burris struggled to free her and was finally able to extract her through the window and handed her off to the officer.
"I've never seen anything like it," Burris said. "I'm sorry I couldn't save the others. I had just told my wife that things were going well and the road was so calm. Once I saw those cars, I knew that it was my duty to help in any way I could."
Later, as he was leaving the scene, officers thanked him for his heroic actions and offered to escort him to the nearest safe haven, which Burris accepted. He has received updates on the girl's condition and learned that she is at home with her father.