DOT mulling HOS changes, split-sleep exemption alterations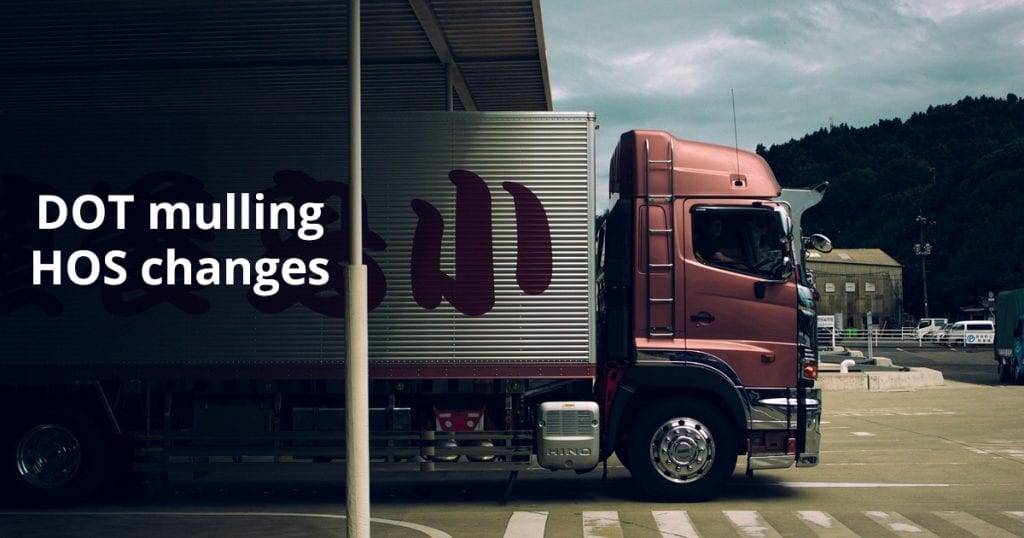 DOT mulling HOS changes, split-sleep exemption alterations
The Department of Transportation (DOT), reacting to more than 5,200 comments filed on potential changes to truck driver hours-of-service (HOS) and other regulations, is moving in that direction.
The Department of Transportation (DOT), reacting to more than 5,200 comments filed on potential changes to truck driver hours-of-service (HOS) and other regulations, is moving in that direction.
Transportation Secretary Elaine Chao told truckers earlier this year at the Mid-America Trucking Show (MATS) in Louisville, Ky., that the DOT has listened to truckers screaming for more flexibility in HOS regulations and that the department has reacted.
DOT also is mulling some changes to HOS. Specifically, DOT is considering whether to expand the current 100 air-mile "short-haul" exemption from 12 hours on-duty to 14 hours on-duty, in order to be consistent with the rules for long-haul truck drivers; this would mostly help the LTL sector, which is pushing the change.
Jeff Mercadante, vice president of safety for Pitt Ohio, which perennially ranks at the top of listings of the safest fleets in America, says the 100 air-mile short-haul exemption would be favorable to many less-than-truckload (LTL) carriers.
"That's great for the short haul industry," Mercadante said. "It helps the LTL sector but doesn't do much for truckload carriers, which have different types of operations. We're in favor of that. If you look at all our drivers, only 3% of city drivers get into 12 hours of driving."
Another change DOT is considering is whether to extend the current 14-hour on-duty limitation by up to two hours when a truck driver encounters adverse driving conditions. This would mostly help truckload drivers who get detained by weather or accidents.
This sounds easy to enforce, but it really isn't. If a truck driver is detained five hours by a snowstorm in Minnesota but gets pulled over later in the day in sunny Missouri, how is the law enforcement officer supposed to know about that the snowstorm delay excuse is legitimate?
"It really depends on your definition of 'adverse driving conditions,'" said Greg Orr, president of truckload carrier CFI. "That definition is very challenging to understand what the driver has done during his or her driving day."
Other changes could include:
whether to revise the mandatory 30-minute break for truck drivers after eight hours of continuous driving, which mostly affects TL drivers as LTL drivers are making numerous stops during their work days and nights; and
whether to reinstate the option for splitting up the required 10-hour off-duty rest break for drivers operating trucks that are equipped with a sleeper-berth compartment. This so-called "split sleeper" exemption is being pushed by the Owner Operator Independent Driver Association (OOIDA) and would allow drivers to sleep, say, six hours and drive some and then take another break
This split sleeper exemption is favored by some truckload interests as well. As one trucking executive said, "Do you sleep 10 straight hours at night? Of course not. As long as they're getting proper rest, they should be allowed to split up their rest time."
Last August, the Federal Motor Carrier Safety Administration issued an Advanced Notice of Proposed Rulemaking (ANPRM) to give the public a chance to comment on current hours-of-service (HOS) regulations. The public response to those proposed changes was enough to push the DOT into possibly making further changes to HOS.
A major force to changing the 14-hour on-duty limitation has been the OOIDA who says owner-operators specifically need more flexibility. Since law enforcement began strict enforcement of the electronic logging devices (ELDs) in April of last year, independent owner-operators say the 14-hour on-duty clock has been an issue.
Currently, truck drivers may drive a maximum of 11 hours after 10 consecutive hours off duty. But truckers may not drive beyond the 14th consecutive hour after coming on duty, following 10 consecutive hours off duty. Off-duty time does not extend the 14-hour period.
Truckers may not drive after 60/70 hours on duty in 7/8 consecutive days. A driver may restart a 7/8 consecutive day period after taking 34 or more consecutive hours off duty. A previous requirement that drivers must include at least two breaks when driving at night between 1 a.m. and 5 a.m. has been suspended for the time being.
Chao also said DOT will seek to make the Crash Preventability Demonstration program, which began in 2017 and ends on July 30, permanent. If truckers can prove the crash was not their fault, they can have it permanently removed from their driving records.