As Legal Marijuana Grows,Trucking Must Focus on Safety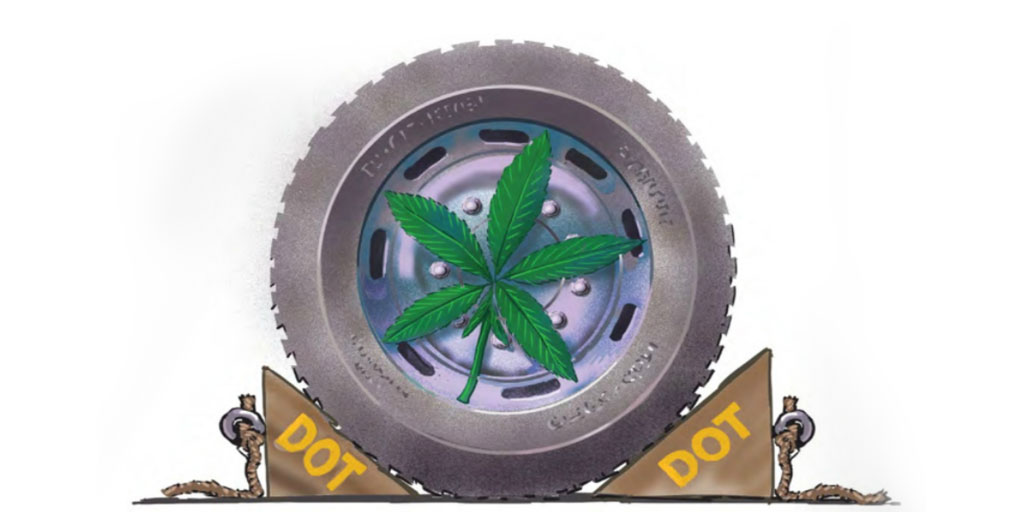 As Legal Marijuana Grows,Trucking Must Focus on Safety
ATA'S 2020 Safety Symposium hosts panel of safety experts on the industry impact of marijuana legalization
As momentum for legalized marijuana continues to increase at both the state and federal levels, the trucking industry should be prepared to oppose and respond to policies that threaten safety.
That was a message shared by Paul Enos, CEO Of the Nevada Trucking Association, and Abigail Potter, American Trucking Associations manager of safety and occupational health policy, during an Arkansas Trucking Association virtual safety symposium Nov. 10. The online discussion was moderated by Greer Woodruff, J .B. Hunt Transport senior vice president — safety security and driver personnel.
TENSION BETWEEN THE FEDS AND THE STATES
Enos spoke to viewers from What he described as "the libertine West.which got a little more libertine last Tuesday." On Election Day, voters in Arizona, Montana and South Dakota, along With New Jersey, all legalized recreational marijuana, increasing from 93 million to 110 million the number Of Americans living in such States, Mississippi legalized medical marijuana on Election Day as well.
Nevada voters had already legalized recreational marijuana in 2016, two years after saying no in the previous election cycle.
The situation where marijuana is legal in Nevada and other States but is illegal in the United States presents a challenge for the trucking industry.
"We do have this tension today between the feds and the states, and for folks in our world in interstate trucking, that tends to make it difficult," he said."You know, what rules do we apply?"
After the Justice Department took a hands-off approach under President Obama, some were concerned the Trump administration would more aggressively prosecute activities that had become legal at the state level. However, that didn't happen. Enos said. The U.S. attorney's office was afraid it would be difficult to obtain a jury conviction because legalized marijuana had been passed by the voters.
Potter said the ATA recommends its members review their drug testing programs. A blanket policy for all employees is no longer feasible at a time of changing state and local laws and viewpoints. Carriers should discuss changes in the law With their lawyers and educate their employees. Employees should know the US. Department of Transportation has said that cannabidiol (CBD) use is not a valid excuse for a positive marijuana result on a DOT drug test. CBD is the non-intoxicating compound found
in marijuana that is used in some products. Carriers should monitor state and federal actions and get involved. Lawmakers need to understand the safety issues associated with marijuana use.
Much has changed in the four years since Nevada legalized marijuana. A urinalysis no longer can be used to test if someone is impaired. Early in the legislative session in 2019, three legislators proposed a bill that would make it illegal to refuse to hire someone if they tested positive for marijuana on a pre-employment screening test. The bill passed, but the NTA successfully lobbied legislators to include an exception if the hire would have an impact on safety.
Enos said public support for marijuana in Nevada is increasing, and the support crosses generational lines. At parties, people over age 50 talk about using the drug for a host of ailments. A family member Enos described as a "Trump-supporting, pretty firebrand conservative" swears by a cream he uses to treat neuropathy.
---
"WE DO HAVE THIS TENSION TODAY BETWEEN THE FEDS AND THE STATES, AND FOR FOLKS IN OUR WORLD IN INTERSTATE TRUCKING, THAT TENDS TO MAKE IT DIFFICULT," HE SAID. "YOU KNOW, WHAT RULES DO WE APPLY?"
—PAUL ENOS, CEO OF THE NEVADA TRUCKING ASSOCIATION
---
FOCUS ON SAFETY, NOT DEMONIZING MARIJUANA
In fact, marijuana is now seen as a civil right. Enos said Nevada in 2002 passed a constitutional amendment declaring that marriage was between a man and a woman. In November, Nevada voters made the state the nation's first to protect gay marriage in its constitution. He sees marijuana moving down the same path. When the NTA tried to argue against the most recent legislation, the three sponsors said using a positive test to avoid hiring someone is racially discriminatory because such tests have prevented the hiring of minorities. He said he is willing to cede that part of the argument and instead focus on safety.
"That's why we're contacted by all these other groups," he said. "We tend to have one of the best arguments in terms of safety, not wanting people who are impaired in any way going down the road, so I think that's why trucking is ultimately going to be the lead on this."
Potter told participants that the safety arguments for keeping marijuana a controlled substance are no longer enough. Democrats see legalization as a criminal justice reform issue, while Republicans see it as a way to raise taxes without doing it the traditional way. It's no longer possible to just demonize marijuana. Trucking will need to ensure marijuana is regulated just as alcohol is.
Enos said the trucking industry needs to educate employers and politicians as it crafts its message and builds a coalition. It should consider how it will work with law enforcement, the Commercial Vehicle Safety Alliance, and so-called "truck safety" groups that tend to be critics of the industry.
Enos said the marijuana industry produces enormous amounts of money —most of it in cash because federally insured bankers avoid doing business with marijuana companies. If Congress takes major action on the issue, it will be in banking access. Meanwhile, politicians are benefiting from marijuana money through campaign contributions and tax revenues that hide a lot of bad decisions and lessen the need to cut spending. Teachers' unions in Nevada have become supporters because marijuana money supports schools.
MARIJUANA AND THE WORKFORCE
Enos said several misconceptions exist regarding marijuana. One is that it is as safe as beer, which he disputed because a person can drink one beer and not get drunk, but everyone who smokes marijuana will get high. Another is that it's a medicine. While there may be some medicinal uses, it's being marketed under many specious claims, including that it will combat opioid addiction. There's even an argument being made by some advocates that people are actually better drivers when they are high.
---
"WE TEND TO HAVE ONE OF THE BEST ARGUMENTS IN TERMS OF SAFETY, NOT WANTING PEOPLE WHO ARE IMPAIRED IN ANY WAY GOING DOWN THE ROAD, SO I THINK THAT'S WHY TRUCKING IS ULTIMATELY GOING TO BE THE LEAD ON THIS."
—PAUL ENOS. CEO OF THE NEVADA TRUCKING ASSOCIATION
---
"You're hearing these kind of things from people Who are pressing red and green buttons on the floor Of your legislature," he said. "If somebody's drunk, they tend to take a lot more risks. They don't know how drunk they are. As Dr. Todd Simo With HireRight stated, somebody Who is drunk is liable to run that red light Somebody who is high is liable to stop at the green light"
Enos said the misconceptions lead people to believe that marijuana is not as dangerous as alcohol, but there are many other factors that add to the drug's safety challenges. There is no uniform impairment standard, and there are no accepted roadside tests like there are With alcohol. When a driver is both drunk and high, law enforcement officers rely only on the alcohol test. The physiological effects and baseline reset of marijuana are unknown. The human body metabolizes one ounce Of alcohol every four hours; the same information is not known about marijuana, Plus, there are many ways to consume marijuana.
During the question and answer session, Woodruff asked the participants how legalized marijuana is affecting the labor market. Potter said the FMCSA'S Drug and Alcohol Clearinghouse had more than 40,000 violations on a recent monthly report, and 40% of the positive drug tests involved marijuana.
"I've been in this gig for 15 years, and I maybe had two phone calls for folks asking for a DOT drug rehab program," Enos said. "After we legalitrd marijuana, Within the first months, I mean it was two dozen phone calls from folks asking for those kind of programs."
Enos in 2019 was appointed co-chair Of the American Trucking Associations' Controlled Substances and Driver Health and Wellness Working Group, which was formed to study the issue. Potter said the working group found that that there is no established consensus on marijuana impairment or intoxication, that an employer's right to test for marijuana use is being threatened, that legalization Will increase liability risk, and that legalization will increase highway crashes.
The working group's recommendations included supporting an employer's right to test for use; eliminating federal restrictions on marijuana research; identifying and removing marijuana-impaired drivers with more drug-recognition enforcement officers and stronger DUI laws; and creating a marijuana victim compensation fund paid for by the marijuana industry — probably the working group's most controversial proposal, she said. Enos said the working group studied the Canadian military's approach. Because measuring a person's level Of impairment is so difficult, it approaches the issue through a time and task schedule. A service member can't be on active duty within eight hours Of using marijuana; can't drive a truck or tank or pack a parachute within 24 hours; and can't be on a flight deck, in a submarine or deployed overseas within 28 days.
Potter discussed some of the legislation that has been proposed at the federal level. One such bill is the Marijuana Opportunities Reinvestment and Expungement Act of 2019, otherwise known as the MORE Act. The sponsor of the Senate version is Sen. Kamala Harris, D-California, the vice president-elect. The bill would decriminalize marijuana and remove it as a controlled substance, which would complicate the Department of Transportation's ability to regulate use. It would create a 5% tax and put it into a trust fund for unknown purposes, open up the banking system to marijuana, and set up a process to expunge minor convictions. Another bill filed this summer would remove marijuana as a controlled substance and create implementation processes. It also would create an FDA authority to regulate cannabis and cannabis products and establish a minimum age of 21.
Potter said it's unclear how president-elect Joe Biden's administration will treat the substance. His first wife and daughter were killed in a car crash involving a large truck, so ATA believes his administration will offer strong support for safety initiatives. At the federal level, the Department of Transportation has been clear about its opposition to marijuana use in the transportation community. It has released three bulletins about the issue – one addressing medical marijuana use, one addressing recreational use, and one this past summer dealing with CBD.
"I think with all of these efforts for legalization, I do believe that DOT is going to fight very hard to maintain their authority and ability to regulate use," she said. She said this becomes harder to do if marijuana is removed as a controlled substance.